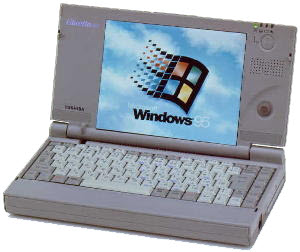 My first portable computer was a Toshiba Libretto 50CT. This was a truly small machine for its day with a weight of 1.87 pounds (with battery) and dimensions of 8.27″L x 4.53″W x 1.34"H. It had a 6.1″ screen, a 770 MB hard disk, 16 MB of RAM, and a 75 MHz Intel Pentium processor running Windows 95. Perhaps its most unusual feature was the built in pointing device. It's a button to the right of the screen that you move with your thumb while your fingers fall on two buttons on the back of the screen for "clicking". It may sound awkward but was very natural and I liked it. Toshiba called this AccuPoint and claimed it as a trade mark. A search for it today shows it as the registered name of brand of hunting scopes.
I was kind of shocked when I looked back and saw that I paid $535 for a used Libretto in June of 1999. I guess that price was at least partially justified by the inclusion of a CD drive that connected through and was actually powered by the Libretto's PCMCIA slot. In July I shelled out another $85 for a 12 VDC cable.
I had visions of using the computer in the car but that didn't happen much. I planned on having company for that first trip but circumstances had me driving alone much of the time. Then, when I did have a partner, there were other things to do plus I quickly learned that reading a computer screen in a sunlit convertible isn't all that easy. The only time I recall actually producing anything while moving was when replacing a damaged tire had us on the road after dark cutting deep into editing time but making the screen usable.
Like the Agfa 780c camera, the Libretto did its job. I used it to retrieve photos from the camera, edit them, then upload them to the website along with text that was also produced on the Libretto. It also handled my email and web browsing. It did not, however, do all of those things at once. Some tasks filled that 16 MB of memory and others were just slow. Editing photos was both. As I switched between tasks, RAM became fragmented so that there might not be enough available to load some program. Somewhere I obtained a memory defragmenter program and I recall using it often to let me start the next task on the Libretto.
I used the Libretto for just a few trips then sold it, via eBay, for $317. By then I had acquired another PCMCIA CD but it required AC power. I offered the purchaser his choice and he went for the newer and faster AC unit. The CD would be very useful with my next computer and I still have it. I also have a Libretto 50CT. My friend John, who was the driver during that one mobile edit session, gave it to me when he bought several retiring units for about $25 each. It is running Windows 98 but is otherwise just like the one I had in 1999. I fired it up to check some things as I wrote this and the audible clicking of its hard disk as it booted sure brought back memories and my thumb felt right at home on the AccuPoint.