1992 must have been a fertile time along the big river in southwest Ohio. As noted in last Sunday's post, the annual Cincinnati Blues Festival was just held for the 19th time. Yesterday, the 19th International Cardboard Boat Regatta took place just a few miles up river from Cincinnati. I don't know what triggered that little rash of event birthing at Ohio's southern edge. Maybe Iron City Brewing up in Pittsburgh had a big spill or something. Or it might just be lucky coincidence that got these two wonderful events going in the same summer.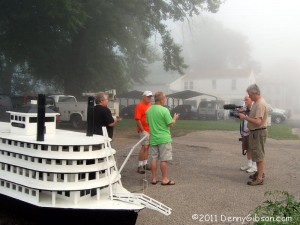 It was definitely a coincidence that I stopped by New Richmond's Cardboard Boat Museum last month on the day before RoadsideAmerica.com was to arrive for a photo shoot and interview. This is the world's only cardboard boat museum and the driving force behind the annual regatta. Of course I eagerly returned the next day for a chance to see Doug Kirby & Ken Smith in action. I'd submitted a few photos to the site and exchanged some email with Doug but had never met either of these fellows. For me, it was kind of like meeting Tiger Woods would be for a golfer. The report produced from the visit is here.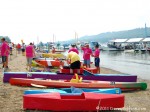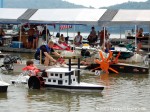 Now that the name dropping is out of the way, I can move on to yesterday's regatta. Even though I've heard of it for years and watched many after the fact reports on local news, this was only the second year I've attended. New Richmond is one of those river towns that, in recent years, I tend to end up in during semi-aimless weekend drives. I naturally started popping into the museum whenever I saw it open and last year actually knew of the race date in advance. I used the 2010 race as the starting point of my Blue Ridge Parkway drive. As I recall, there were about fifty boats last year. That record was shattered by this year's fifty-five entrants. There are different heats for juveniles and adults and for single and multiple person crews. Boats with "mechanical assistance" make up their own distinct class.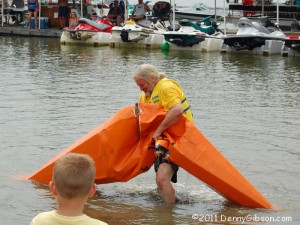 By rule, the boats are constructed of nothing other than cardboard, tape, and paint. The paint is critical though there is nothing special about it. The same basic house paint that keeps water from soaking into your wooden siding keeps it from soaking into cardboard. Of course, should water somehow find its way in, the cardboard reacts even quicker than peeling wood siding. By using different crews, many boats run in more than one heat. Some run in less than one heat.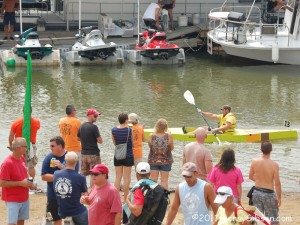 After all the various class competitions are finished, any surviving boat with any crew can compete in a wide open free-for-all with the winner taking home the prestigious Cardboard Cup. In previous years, the Cardboard Cup race was the last of the day but this year a new event was added. This double length race would seriously test the stamina of any individual with the nerve to try it. Rather than the single downstream pass of the 200 yard course that makes up every other event, this race required entrants to paddle the course in both directions. The picture shows Sam Richmond about to cross the start/finish line to become the first recipient of the Cardboard Man title.
The Cardboard Man title is clearly out of my reach. In fact, almost everyone in a boat expended a lot more energy than I'd ever consider. The lone exception was the fellow who played steel drums while his wife propelled their craft. Now that's a gig I think I could handle.