If I had introduced this blog a week earlier, the Cincinnati and Lebanon blues festivals could have been the subjects of last Sunday's post instead of the "Hi, I'm a blog" thing. The downside of doing it this week is that it's not near as timely. The upside is I've had a week to figure out how to include pictures.
The Cincinnati festival is a two day affair that fills Friday and Saturday evenings starting around 5:00 PM. Lebanon's event is Saturday only with a start time of 11:00 AM. Both end sometime just short of midnight. Why these two festivals — just thirty miles apart — are held on the same weekend each year is something of a mystery but don't expect it to change any time soon. Cincinnati was there first. This year was Cincinnati's 19th and Lebanon's 13th. So it was Lebanon that caused the collision but they always seems to have all the crowd they can handle and little incentive to move the date. Lebanon's festival is free. Cincinnati's isn't. I suspect Cincinnati's Saturday crowd is lessened a bit by the freeby up the road but the Cincinnati event is locked into its slot in the venue's full schedule and couldn't change if it wanted to..
Some years I've gone to neither and some years I've gone to both. Other years I've gone to one or the other. This was a "both" year. Cincinnati certainly has the bigger festival. It is spread out not only over two days but over three stages. There is a local stage featuring runners up from the local Blues Challenge. The winners, who will represent the Cincinnati Blues Society at the International Blues Challenge in Memphis, open the main stage. After that, it's filled by national and regional acts. The third stage is alway boogie woogie piano on Saturday and something else on Friday. Last year it was the music of New Orleans. A tribute to the Ludlow Garage, a venue that brought big time acts to Cincinnati in the '60s & '70, was held there the year before. This year it was rockabilly.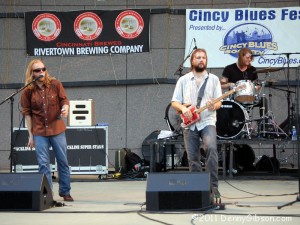 In theory, acts get better and better as the day progresses and peak with the headliner. I frequently find, however, that my own ranking doesn't quite match the program. That was definitely the case on the main stage Friday. I was most impressed by Moreland & Arbuckle who were third from the top — right after the local openers. I had heard they were a two piece band and was surprised to see the drummer. Then, when they started playing, I was convinced there was a fourth member and walked across the front of the stage looking for a bass player behind the speakers. Nope. Dustin Arbuckle sings and plays killer harmonica while Aaron Moreland plays bass, rhythm, and lead on a single fretboard. Aaron does play "normal" guitars but I liked him best on his custom made four string cigar box with the top string set up specifically for bass work. The program says otherwise but I believe that is Kendall Newby on drums. His talents are a match for the other two.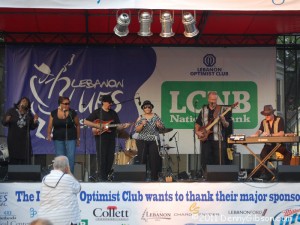 On Saturday, I went to Lebanon in time to catch the last four acts. Most of the artists here can be considered local but local includes Cincinnati, Dayton, and Columbus and many bands from all of those cities do a lot of traveling. The Blue Birds Big Band, last year's Cincinnati Blues Challenge winners, would close out the night but the main draw for me was the lady in the picture, Teeny Tucker, who was on just ahead of them. I had seen Teeny do a few songs in a Columbus bar during a benefit and I was looking forward to seeing her in control of the stage and with her full group. That's one powerful and soulful young lady.
I saw a lot more good musicians than the ones pictured here and I know there were plenty I missed. There was real top notch blues talent on the stages of Cincinnati and Lebanon last weekend. I can't say a bad thing about any of them but, baby, you know what I like.