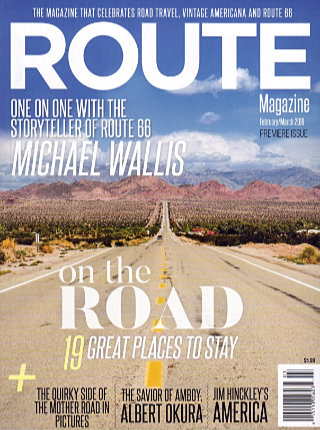 The premier issue of ROUTE Magazine reached my neighborhood last week. Online chatter — from the publisher, some contributors, and quite a few anxious readers — had been building over the last few months. By the time I held a copy in my hands I'd seen the front cover and had a pretty good overview of the contents. Flipping casually through my purchase verified that this was a quality product with lots of photographs nicely reproduced on semi-gloss pages and plenty of inviting text. It also verified something that I was a little slow in realizing: ROUTE Magazine, or at least this issue, is 100% devoted to Route 66. Not that there's anything wrong with that.
The name of author Michael Wallis occupies a prominent spot on the cover. Inside he is the subject of a far ranging interview. Wallis and Route 66 have been tightly tied together since his book, Route 66: The Mother Road, was published in 1990. On one hand, there's an awful lot of "us too" in spotlighting him like this. On the other, there's probably a fair amount of credibility to be gained from the interview.
An interview with restaurateur Albert Okura is also listed on the cover along with a set of photographs from David Schwartz and some reminiscing by Jim Hinckley. Okura founded the highly successful Juan Pollo chain and has put his own money into saving bits of Route 66 including the town of Amboy, California. The basic story is well known in the Route 66 community but the interview shines some light on the man behind the story. David Schwartz is an extremely talented photographer living in the no-where-near-Route-66 town of Cleveland, Ohio, who is rapidly getting a reputation for capturing his love for the road in his photos. Author Jim Hinckley is responsible for the best writing in this issue with his memories of six decades of personal experience with Route 66. Some were familiar but some — especially those of Ed's Camp proprietor Ed Edgerton — were fresh and fun to read.
In addition, the magazine contains a few nuggets from Ron Warnick's Route66News.com, a "Women on the Route" article, a piece on route-side lodging, and a short form interview with former Midpoint owner Fran Houser. "Women on the Route", written by Katharine McLaughlin, talks about Katrina Parks' documentary project and draws information from it. There are some historic mom-and-pops (e.g., Wagon Wheel, Boots) included in the lodgings article but there are also some fairly upscale boutique establishments that don't often appear in Route 66 listings. The Fran Houser interview appears on the end page under a "Parting Shot" label so I suspect something similar will be a regular feature.
I mentioned that I was slow coming to the realization that this is essentially a Route 66 focused publication. Posts on the magazine's Facebook page made in the lead-up to publication included at least one Lincoln Highway and one US-50 reference and they apparently caught my eye more than they should have. Looking a little closer, I now see that 90+% of the posts were Route 66 references and all of the magazine's posts not on its own page were in Route 66 oriented groups. Again I say there's nothing wrong with that. I'm personally a little less interested than I would have been otherwise but there seems to be significant interest from others and the first issue does look good.
Distribution is currently through Barnes and Noble stores although it appears that not every store is carrying the magazine. Of the two closest to me, one is and one isn't. Subscription details are still being worked out but are to be available soon at the magazine's website, www.routemagazine.us. That website is not yet operational making the aforementioned Facebook page (facebook.com/ROUTEMagazine) the place to check for status and news for the time being.
UPDATE 21-Feb-18: Only a few hours after this review was published, ROUTE Magazine announced on Facebook that the website at www.routemagazine.us had gone live. The site includes a page supporting subscriptions.